Eedo Rakam Aado Rakam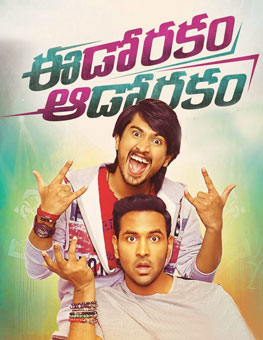 Movie Title : Eedo Rakam Aado Rakam
Release date : 14th April 2016
Starring : Manchu Vishnu, Sonarika Bhadoria, Raj Tarun, Hebah Patel, Rajendra Prasad
Director : G. Nageswara Reddy
Story : Smeep Kang, Naresh Kathooria
Dialogues : Diamond Ratna Babu
Music Director : Sai Karthik
Cinematography : Siddharth Ramaswamy
Editer : M.R.Varma
Producer : Ramabrahmam Sunkara
Production company : A.K.Entertainments
Plot
The story runs between two good friends Arjun (Manchu Vishnu) & Ashwin (Raj Tharun). Arjun is the son of a very rich Leading Lawyer Narayana (Rajendra Prasad) while Ashwin is the son of an ordinary Inspector M. Koteswara Rao (Posani Krishna Murali). Once both of them visits their friend Kishore's (Vennela Kishore) marriage both of them fall in love with two beautiful girls Neelaveni (Sonarika Bhadoria) & Supriya (Hebah Patel) respectively.
Neelaveni is the sister of Dattu (Abhimanyu Singh) while Supriya is the sister of Gaja (Supreth) who are popular goons in the city and opponents to each other. Neelaveni has a condition to marry an orphan after seeing her sister's life, though he has a family, Arjun acts as an orphan to gain her love and Dattu accepts their love and makes their marriage within no time in the register office.
Arjun & Neelaveni are in search of rent house to start their new life and unfortunately, Neelaveni rents the upper portion of Arjun's house only, where the trouble starts, therefore, Arjun shows Ashwin as Neelaveni's husband before his family members and Ashwin as Narayana's second son to Neelaveni. On the other hand, Gaja also intends to meet Ashwin and he wants a rich alliance for his sister. So, Ashwin also lies that he is the son of Advocate Narayana, Arjun also helps him to focus Ashwin as Narayana's son and successfully makes his marriage with Supriya.Rest of the story is a humorous confusion drama that who married whom? What are they doing in Lawyer Narayana's house?
Click here for Gallery