Dr. Abdul Kalam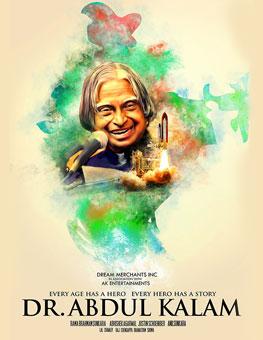 Title : Dr. Abdul Kalam
Director : Justin Schoenlaber
Screenplay : Anil Sunkara
Script consultants : Raj Chengappa, Dhabasyam Sharma
Producers : Rama Brahmam Sunkara, Abhishek Agarwal
Story Line
Kalam was a career scientist who helped lead the secret development of India's nuclear program in the late 1990s and later served the country as its 11th President. He was instrumental in India's controversial Pokhran nuclear tests, which caught the world community by surprise and was characterized at the time by the American intelligence community as one of the US's most serious intelligence failures of the decade. Involved in the early development India's civilian space program and military missile development efforts, Kamal was known as "The Missile Man of India." With the support of Prime Minister Indira Gandhi, he was instrumental in concealing the true nature of India's classified nuclear program from United States and other world intelligence agencies. His pivotal role in the Pokhran nuclear tests made him the country's best known nuclear scientist.
"Set on an international stage, Abdul Kalam's story is a powerful drama of a man dedicated to serving his country and realizing his dreams, despite the efforts of the world's most powerful governments and intelligence services," said Sunkara. "As one India's most famous and influential leaders, a biography of his amazing life will translate wonderfully to the screen."
Affectionately known as "The People's President," Kalam was elected President of India with support from all of India's political parties in 2002. He served until 2007 and following his death in 2010, received numerous posthumous national and international tributes including a national holiday on his birthday, a national week of mourning, a state government award for achievement in science announced annually on Indian Independence Day, commemorative postage stamps and the naming of numerous educational, scientific institutions and civic locations in his honor.
Click here for Gallery