Andhaagadu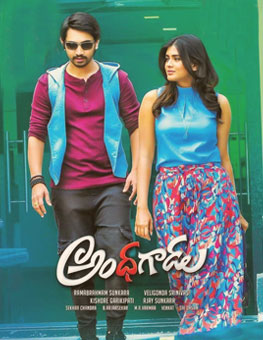 Movie Title : Andhaagadu Movie
Release date : 2nd June 2017
Starring : Raj Tarun, Hebah Patel, Rajendra Prasad
Director : Veligonda Srinivas
Writer : B. Bhanu Kiran, Nandu R. K.
Music Director : Shekar Chandra
Cinematography : B. Rajashekar
Editer : M. R. Varma
Producer : Ramabrahmam Sunkara
Production company : A.K.Entertainments
Plot
Gautham (Raj Tarun) is an orphaned and blinded youngster who works as a Radio Jockey in Vizag. Gautham is in search for an eye donor and a soulmate at that time he meets an eye specialist Dr. Netra (Hebah Patel) and falls for her looking at her ever-so-helping nature. He starts inspiring her by hiding his blindness and acting as normal after few funny incidents Netra also starts loving him. When she discovers the reality of Gautham she dumps him, the heartbroken Gautham also starts disliking her and decides to love a better girl after getting his eyesight. But Netra still loves him, so she only arranges a donor for his eye transplantation and within no time Gautham is able to see.
After getting his eyesight everyday Gautham gets some mysterious dreams. Meanwhile, Gautham again falls in love with Netra only without knowing her identity and she acts as a dumb girl because he may recognise her voice. After some time Gautham comes to know she is only Netra and because of her only he got his eyesight, at last, all misunderstandings arises between them they get ready for marriage. Suddenly, a person named Ranjith Kulkarni (Rajendra Prasad) arrives into Gautham's life as Netra's father and keeps few funny tests to give his daughter's hand such as making all medical tests, nonstop 20 rounds in a ground and taking breaks from the vehicle of Assistant Commissioner Dharma (Sayaji Shinde), finally, he agrees to their match and asks him to meet him at his house.
Next day when Gautham visits Netra's house he is surprised to see Commissioner Dharma as Netra's father and when he reveals the truth no one believes it finally he says person called Ranjith Kulkarni is doing all these things, where a shocking incident arises, Netra reveals that the person has dead two months before and his eyes are only transplanted to Gautham. Then Gautham understands that person chasing him is Ranjith Kulkarni's soul, from where Kulkarni makes Gautham's life miserable by showcasing as a madman before everyone and creates enmity with a dreaded goon Baddam Babji (Raja Ravindra) by killing his men one by one through Gautham. Rest of the story is how Gautham escapes from Kulkarni's soul, protects himself from the goons and succeeds in his love.
Click here for Gallery